Fred Grewe is a Board Certified Chaplain (Association of Professional Chaplains) with a Doctor of Ministry degree from the Pacific School of Religion in Berkeley and is an ordained Congregationalist minister working for Providence Hospice in Medford, Oregon.  His interest in working with the dying began in the early 1990's with the death of his best friend who succumbed to AIDS.
Joyfully married to the kindest woman on the planet, Fred lives in Ashland, Oregon with wife Cyndi, their incredibly smart, funny, and good looking son Elijah, and Finch the wonder dog.
Fred is a mystery – even to himself.  He is a middle-aged, bald, white man who believes God loves him very much and the power of this belief has helped transform a frightened, angry, little man into a more loving and considerate human being.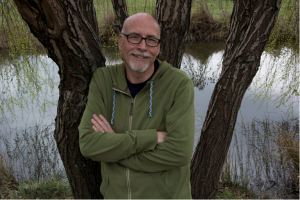 photo by David Lorenz Winston
http://www.davidlorenzwinston.com/